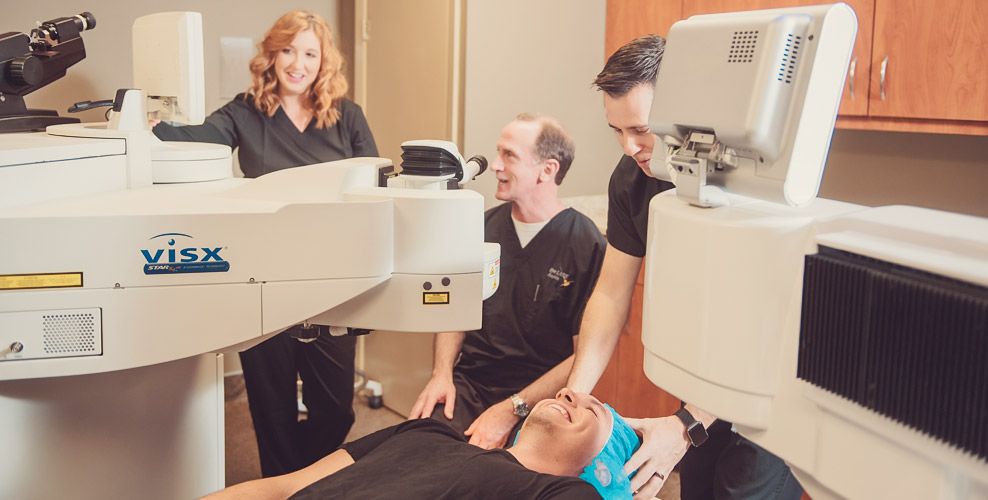 Around 600,000 people get LASIK each year, making it an excellent alternative to improving your eyesight. Deciding to get LASIK is a big decision and once you do that, you need to find the best LASIK surgeon to perform the procedure.
Evaluating the top LASIK surgeons is a daunting but essential task. You want to ensure you hire the best person for the job. It's not as simple as picking a name off a list.
This guide will go over the top seven factors you need to consider when evaluating LASIK surgeons. If you've recently searched for the "best LASIK surgeon near me," this article is for you.
1. Are They Board Certified?
The LASIK surgeon should be certified by the American Board of Opthalmology. This means the surgeon has been recognized and certified by the American Board of Medical Specialities. They've determined that the surgeon is qualified to practice their specialty.
The American Board of Ophthalmology requires that physicians be board-certified. They also need to complete training and continue their education in their specific specialty. In addition to asking a surgeon if they're certified, you can verify them on the American Board of Ophthalmology's website.
2. Positive Recommendations
Ask your normal eye care practitioners for recommendations for a LASIK surgeon. Let them know that you're looking for the best in the area.
Once your optometrist provides you with their recommendations, research them. Look up their reviews and customer testimonials on third-party websites. Don't just read recent reviews — look at reviews over a span of several years.
By evaluating their reviews, you can see if they provide consistently good care for their patients. You'll also be able to determine how the average patient's experience is with them.
3. Don't Base Your Decision on Price
Investing in LASIK is not the same as buying something in a retail store. It's not a product that's mass-produced and you won't get the same result if you go with a less expensive option.
With LASIK surgery, you can either have a cheap price or great quality. Both aspects don't typically go hand in hand. While your surgeon can offer affordable packages or financing options, their rates shouldn't be significantly lower than the average.
4. Qualified Staff Members
Not all staff members in a vision center are the same. While your focus should be on finding the best LASIK surgeon, you always want to feel comfortable with their staff members. They should be accommodating, accessible, and courteous.
While the surgeon is the one performing the procedure, you will deal a lot with their support staff. This includes the appointments preceding your surgery and the ones after. You want to ensure that they're committed to providing you with the best experience possible and can answer all of your questions.
5. Number of Procedures They've Performed
Adequate experience and expertise are essential with any job in the medical field. You don't want an inexperienced LASIK surgeon. Ask your potential surgeon how many successful LASIK surgeries they've performed throughout their career.
With this in mind, a surgeon's qualifications are also important. Inquire as to where the surgeon had their residency and what their specialties were.
It's also not uncommon for a surgeon to have more than 50,000 LASIK surgeries under their belt. 10,000 procedures are typically the minimum amount for a qualified surgeon. However, quantity doesn't always equate to quality.
Any surgeon you speak with should meet the industry standards for selecting potential patients. They should be able to eliminate those who aren't a good candidate for LASIK surgery. LASIK isn't appropriate for every patient and a good LASIK surgeon should be able to weed out those who aren't qualified for the procedure.
6. The Surgeon Has Worked With Patients Who Have the Same Vision as You
A LASIK procedure can correct and address a wide range of vision problems. It can correct:
Astigmatism
Far-sightedness
Near-sightedness
The surgeon you select should have experience using LASIK to treat a variety of patients, especially those with the same grade and type of vision impairment. They should have performed hundreds or thousands of successful procedures on individuals who have the same exact vision problems that you do. Knowing that will give you the confidence that they'll perform the surgery successfully on your eyes as well.
7. How Did You Feel After Your Consultation?
You should schedule a consultation with at least two to three qualified LASIK surgeons in your nearby area. It'll give you more opportunities to learn about LASIK and how it can benefit you. You'll also discover more about what you can expect as you get a feel for the office.
When you're there, think about and evaluate the following items:
Was your consultation educational and informative?
Did the appointment feel more like a sales pitch?
Was their staff friendly?
Were the offices and waiting rooms clean, welcoming, and modern?
Were you able to ask all your questions while feeling comfortable?
Were your questions answered in a way that was easy for you to understand?
Did you feel seen, listened to, safe, and cared for?
No matter what, always listen to your feelings. An office may tick all the qualifications boxes and have dealt with thousands of patients just like you. If the surgeon seems disingenuous and you don't feel comfortable in their office, keep looking for a different surgeon.
Getting LASIK surgery is a big step. You want to entrust the procedure with the best surgeon in your area. Listen to your gut and go with a surgeon you feel safe with that has all of the qualifications.
Make an Appointment With the Best LASIK Surgeon in Austin
Having your surgery performed by the best LASIK surgeon is essential to ensuring the process goes smoothly. Eye LASIK Austin has been performing LASIK eye surgeries for over a decade. Connect with our office to learn more about our highly-trained surgeons.
Contact us today to book a free consultation.