Simply put, iLASIK Surgery is the most advanced form of laser vision correction available today. We at Eye LASIK Austin know that you want the best for your eyes, and iLASIK with iDesign is the highest technology available. Don't just take our word for it though – the science backs up that claim.
"NASA followed the Naval Aviation clinical studies of nearsighted patients closely with a particular interest in both safety and quality of vision under extreme conditions. Wavefront-guided and femtosecond lasers achieving 20/20 or better vision. The Navy studies demonstrated that advanced technology LASIK is stable and effective in even the most extreme physical conditions of warfare and high-performance flight. With that kind of rigorous testing and validation, the average consumer can choose LASIK with confidence."

-DR. (CAPT.) STEVEN C. SCHALLHORN, U.S. NAVY, RET.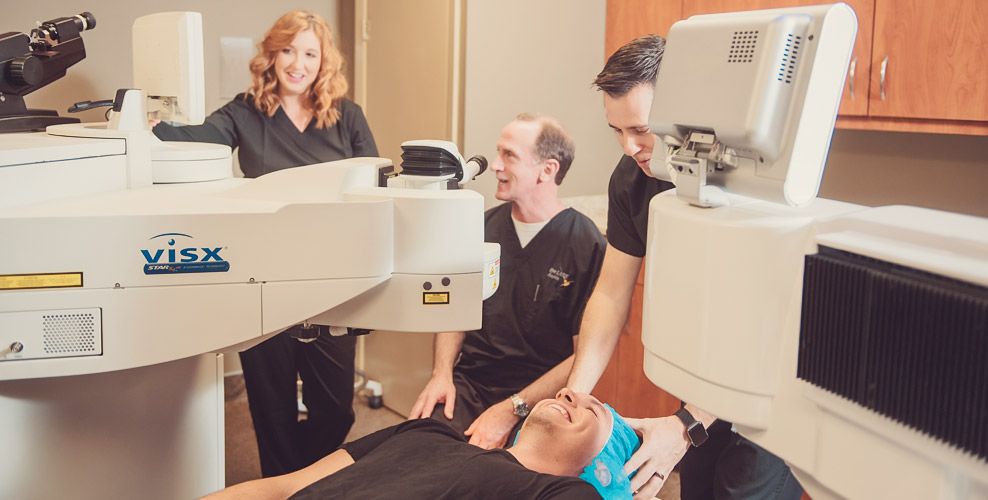 iLASIK combines two unique procedures – IntraLASIK utilizing the Intralase Femtosecond laser and iDesign Wavefront Guided Custom LASIK – to create excellent results. The safety and precision of IntraLASIK is blended with the personalization of iDesign to help patients achieve 20/20 vision – or better.
How does iLASIK Work?
The iLASIK process begins a few days prior to surgery with creating a three-dimensional map of the eye using iDesign technology. Much like your fingerprints, no two eyes are identical. The 3-D mapping of the iDesign device is accomplished by positioning a patient behind the instrument and then directing over 1000 individual beams of light painlessly into the patient's eyes. Literally just a second or two later, the wave of light that hits the back of the eye is bounced back to the instrument and digitized into a detailed map that describes exactly what light does as it enters and exits your visual system in over 1000 specific points.
Prior to utilizing this technology, all laser treatments were based solely on a patient's eyeglass prescription. Not so with iLASIK. These measurements are 25 times more precise than those older methods and give us much more accuracy in treatment. The staff at Eye LASIK Austin are experts in both performing and interpreting these scans, and will help you to determine if iDesign utilizing Wavefront Guided Technology is right for you.
The maps gained from the iDesign allow the surgeon to identify the corneal imperfections in each patient's eye – and how they should be corrected. Then, the information is entered into the computer that guides the laser.
Next, the Intralase laser is used to create the corneal flap. Since the primary surface of the cornea is a regenerative skin cell layer, the reshaping on the eye must be done at the second layer of the cornea known as the stroma. The corneal flap is made using a ultra fast computer guided laser. The process is incredibly fast and is accomplished by simply forming a layer of gas bubbles precisely where the flap is programmed to be made.
Prior to the development of the Intralase laser, a bladed device was commonly used to form the flap. Moving to an all-laser procedure has added an appreciable amount of additional safety and precision to the LASIK procedure.
Intralase technology
Eye LASIK Austin is proud to be one of the few in Austin to offer the most advanced Intralase technology of the iFS Intralase for all of our LASIK patients. This technology is widely recognized as the safest, most proven method to make a LASIK flap today.
The final step is iDesign Custom LASIK with the VISX Star 4 laser. It takes virtually seconds to complete, and during the process, your eye is being followed with a digital eye tracking system utilizing missile defense-type technology to ensure perfect placement of the laser spots. It is a truly amazing process! No two eyes are ever treated in the same manner as a Wavefront-Guided Custom treatment is performed. This Custom treatment has been shown in studies to decrease the incidence of evening glare and haloes, which were associated with older types of LASIK procedures in the past. In fact, clinical studies one year after treatment showed that 4 times as many mild and moderate nearsighted patients were satisfied with their night vision after the treatment compared with their night vision before treatment in glasses or contact lenses.
iLASIK Surgery has revolutionized Laser Vision Correction in many important ways. It provides patients with more consistent outcomes, safer procedures, and better long term stability of the cornea than procedures of the past. These advances finally convinced NASA and the Military that LASIK was a safe enough, precise enough, and logistically simple enough procedure for their personnel to undergo. If it is good for our fighter pilots and astronauts, it must be good enough for you as well.
How safe is iLASIK?
iLASIK is considered by many to be the best approach to vision correction surgery thanks to its superior precision and accuracy. Since iLASIK uses a laser instead of a metal blade, it holds less of a risk of complications. Studies conducted by the FDA confirmed that the accuracy of flap thickness was demonstrated at +/- 10 microns – this is an element that's critical to LASIK success. And, it's simply unparalleled among flap creation technology today. Click here for important safety information.