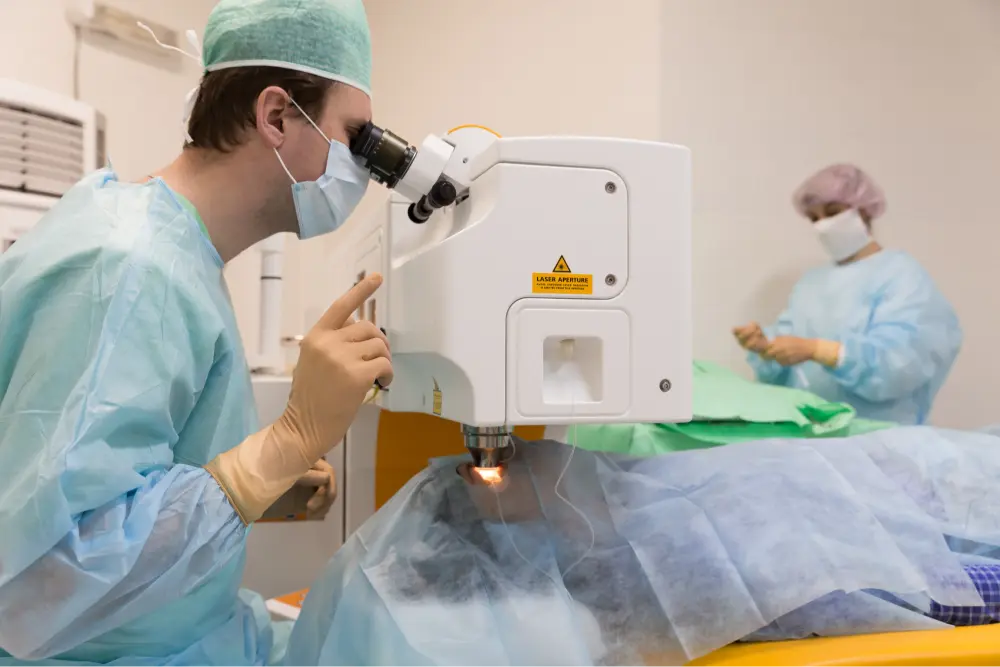 Are you wondering: how can I find the best Lasik surgeon near me? Keep reading and learn more about what to look f
In the United States, 10 million people have gotten LASIK ever since the procedure was approved by the FDA over 20 years ago. While laser eye surgery is relatively safe, it is still vital that you do your research to find the best eye surgeon to work with. 
This will lower your risk of complications and will ensure that you have a favorable outcome from your refractive lens exchange. 
Do you want to learn how you can find the best eye surgeon to repair your poor eyesight? Keep reading these top tips to find the best LASIK surgeon near me!
How Many Procedures Have They Performed? 
The first thing you should do when you are getting LASIK Surgery is learn more about the experience your surgeons have. One simple way to get an idea about how much experience a surgeon has is by asking them how many procedures they have performed. 
If you find a surgeon that has performed thousands of surgeries, you can feel more confident that they are qualified to operate on you. 
Similarly, you should ask your surgeon how many procedures they perform each week. While they may have done hundreds or thousands of procedures in the past, if they do not have current experience doing LASIK surgery, they will be out of practice. Make sure they perform the procedures regularly to keep their skills in shape!
Finally, you should ensure that your surgeon has performed LASIK for someone with the same vision problems you have. 
Do They Have the Right Credentials?
Before you choose a laser eye surgeon, you also need to make sure they have the right credentials and are qualified to perform laser eye surgery. 
First, you must make sure your laser eye surgeon is a board-certified ophthalmologist. You can verify this online. First, look up the American Board of Ophthalmology. Then you can select"verify a physician" and enter the name and location of your LASIK surgeon. 
You should also learn more about the schooling your surgeon received. First, they need to have a 4-year undergraduate education, preferably in a pre-med emphasis. Then, they need a 4-year medical program, internships, specialized training, and residency. 
You can get information about the surgeons' credentials on your ophthalmologist's website. 
Does Your Surgeon Turn Down Requests For LASIK? 
Something else that can help you identify whether a surgeon is reliable is whether or not they turn down patient requests for LASIK surgery. There are some factors that may make some patients bad candidates for laser eye surgery. These include things like diabetes, immune system disorders, and more. 
If your surgeon never turns down patients, it shows that they are more concerned with making money than they are with the health and well-being of their patients. 
You need to make sure your surgeon cares enough about the long-term success of their operations to turn down patients that aren't good candidates.
Make Sure You're Comfortable With Your Surgeon 
Before you get laser eye surgery, you also must make sure you are comfortable with your surgeon. Make sure you feel comfortable asking your surgeon questions so that you can make an informed choice about your procedure. 
You should also feel like your surgeon is willing to answer any questions you have. This way, you will be completely aware of any risks or benefits associated with the surgery. 
If your laser eye surgeon tries to pressure you into having a procedure performed, you should look for another option. When a surgeon has to talk you into getting a procedure, they are often more concerned with their payment instead of getting you the best vision possible. 
Get Referrals 
Another great tip for finding the best eye surgeon to correct your poor eyesight is getting referrals from local friends and family members who have had laser eye surgery in the past. If they had success with their procedure and liked the surgeon they worked with, you might want to consider using the same surgeon.
When you ask for referrals, you can also ask your friends and family members about their experience getting laser surgery. This way you will be more prepared for your upcoming surgery and you will know what types of questions to ask during your consultations with your eye surgeon.
Ask several people if they would recommend their eye surgeon for your LASIK procedure!
Check Online References and Reviews
Finally, you need to check online references and reviews before you choose a surgeon to do your LASIK procedure. Doing your research and checking reviews will show you how past patients were treated during their procedure. 
It can help you identify potential problems with your surgeon before you start your procedure. By doing a little bit of research before your appointment, you can avoid a bad experience with LASIK.
Keep an eye out for red flags as you read the reviews. For example, surgeons that were pushy or that were not willing to answer questions for past patients will likely give you the same treatment. 
Find the Best Lasik Surgeon Near Me Today
When you are getting laser eye surgery, it is vital that you take your time and research "the best LASIK surgeon near me." Otherwise, you may end up working with a lesser quality surgeon that doesn't provide the results you need. 
Do you need to get a refractive lens exchange? Eye LASIK Austin can help! Our top-tier doctors use some of the most technologically advanced surgical equipment and leading-edge vision technology.
Contact our office to learn more about our LASIK services and to get a free consultation from our experienced surgeons.