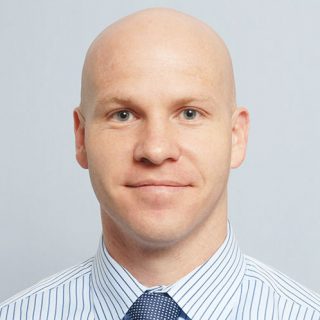 Dr. Kyle Rhodes, M.D., a board-certified and fellowship-trained ophthalmologist, founded Lake Travis Eye and Laser Center in order to bring state-of-the-art comprehensive eye care and surgery to the West Austin area. He grew up in Texas, and graduated from The University of Texas at Austin with a Bachelor of Science with the Highest Honors in 1999. He fell in love with the Lake Travis area as an undergraduate, and has finally made his way back to the Central Texas Hill Country!
His medical school training was at Baylor College of Medicine in Houston, Texas, where he was a Presidential Scholar. Dr. Rhodes then completed his internal medicine internship and ophthalmology training at the prestigious California Pacific Medical Center in San Francisco, California, where he served as Chief Resident. He then returned to Texas for a glaucoma fellowship at The University of Texas Southwestern Medical Center at Dallas.
After spending over a year in a group practice in south Austin as their lead cataract, glaucoma, and refractive lens exchange surgeon, he opened his solo-practice in Lakeway, Texas, with the goal of being different than the healthcare "assembly line" trend. He truly listens to each patient's problems and desires, and allows these personalized details to lead the discussion of customized treatment options.
Dr. Rhodes was the President of the Austin Ophthalmology Society for 2011, and is a member of the American Academy of Ophthalmology, the American Society of Cataract and Refractive Surgery, and the American Glaucoma Society.
In addition to providing general eye care, Dr. Rhodes specializes in laser cataract surgery, glaucoma diagnosis and treatment including micro-invasive glaucoma surgery, complex cataract surgery, presbyopic/premium intraocular lens implants, astigmatism treatment, and laser refractive surgery. He is the first surgeon in the Austin area to offer the Kamra corneal inlay. His career mission is to provide compassionate, professional, and patient-centered care.